(Beijing, 28 October 2014) A delegation of the Ministry of Culture and Information of Serbia, led by minister Ivan Tasovac, with state secretary S. Mirkovic, secretary of the Ministry I. Jovicic, chief of the Cabinet J. Marinkovic and assistant minister A. Draca Muntean, visited the People's Republic of China from 23 to 28 October 2014 at the invitation of the Chinese Minister of Culture Cai Wu.
During his visit to Beijing, minister I. Tasovac with the delegation had meetings with the main host, Minister Cai Wu and in the State Administration of Cultural Heritage, the State Administration of Sports and the China National Symphony Orchestra. In addition, the delegation visited several cultural institutions and cultural sites.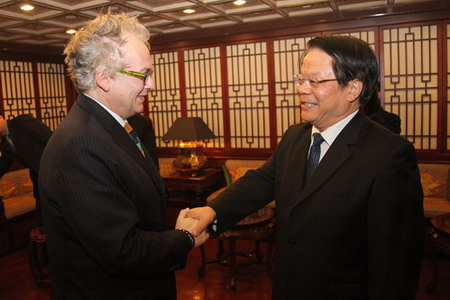 A high level of relations between the two countries was highlighted during the meetings, and ways for further intensification of cooperation were discussed (exchange of orchestras, museum exhibitions, cooperation in the field of film and new forms of creative industries, translating literary works, preservation of cultural heritage etc).
During a visit to Shanghai, MKI I. Tasovac had meetings with representatives of the city administration and the directors of several cultural institutions.