(Beijing, 20 September 2013) The charity exhibition match between Serbian tennis player Novak Djokovic, the world No.1, and the famous Chinese tennis player Li Na, will be held on 27th of September at the China Open Diamond Court of the National Tennis Center in Beijing.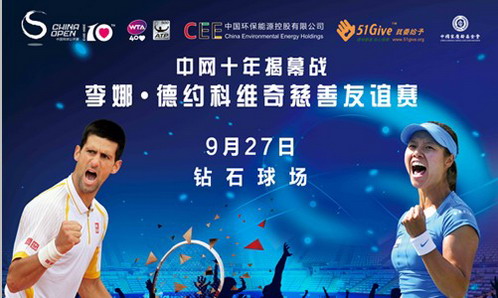 Li Na and Novak Djokovic will donate the entire amount earned from the ticket sales for this match to the Song Qing Ling Foundation, which is part of the China Youth Tennis Development Fund Project.
Organizers of the match are the Beijing China Open Promotion and the China Environmental Energy Holdings, as well as 51.give.org - Online Donation Platform.
15 thousand spectators are expected to attend this charity match, which will have media coverage from more than 60 international media companies.
The sports channel of the Chinese National Television CCTV5 will broadcast the match.
Information regarding the purchase of the tickets, are available at the website of the China Open, http://tickets.chinaopen.com.cn/index.asp
We invite all tennis fans, friends of Serbia and China, Serbian citizens in China, and all the people of good will to attend this game.