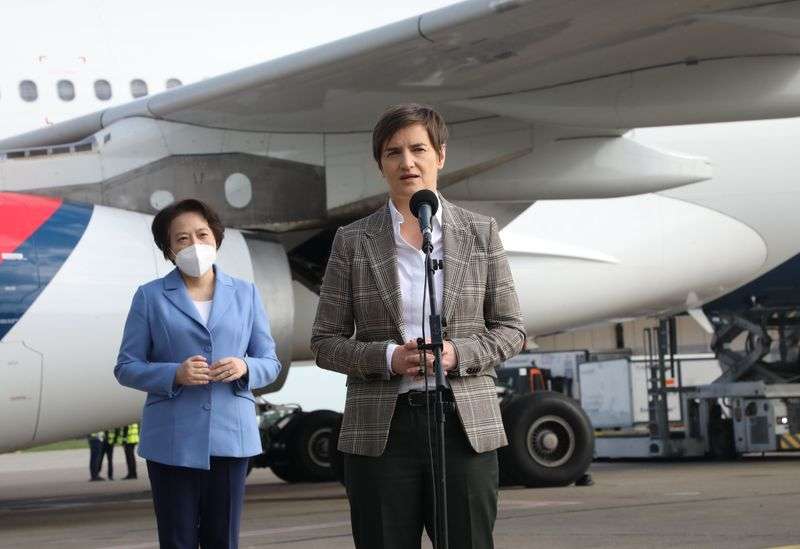 Prime Minister Ana Brnabic and Chinese Ambassador to Serbia Chen Bo welcomed a new batch of Chinese Sinopharm vaccines this morning at Belgrade Nikola Tesla Airport.
During the reception of the plane, which brought half a million doses of this vaccine, Brnabic stated that 4.2 million doses of the Chinese vaccine have been delivered to Serbia so far.
She pointed out that the last delivery of Sinopharm vaccines under the contract arrived today, which is a total of four million doses of vaccines that have been brought from China and delivered in eight flights from January until now.
The Prime Minister also mentioned that the Chinese Army donated another 200,000 doses of that vaccine, and stated that 45.3 percent of the adult population in Serbia has been vaccinated so far.
The Prime Minister underlined that the company Sinopharm showed reliability that no one could have expected in difficult times and circumstances.
However, Brnabic stated that the number of those vaccinated is still not enough to reach herd immunity, which is why she called on citizens, and especially young people, to come and be vaccinated in order to end the pandemic as soon as possible.
She expressed gratitude to the Chinese partners because they delivered four million vaccines in the shortest possible time, as well as to the Chinese Army on the donation.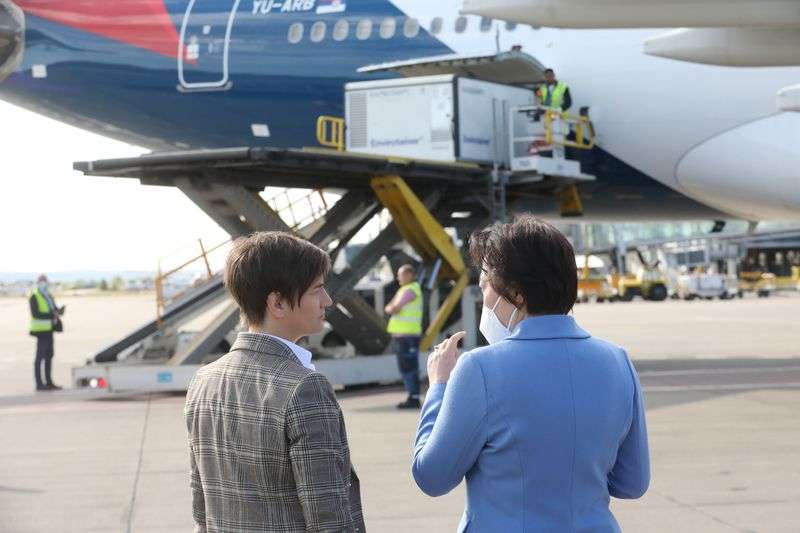 Even if we do not get any other vaccine, at this moment in Serbia we have enough to vaccinate 3,115,000 citizens and thus be practically safe. Serbia has no problems with vaccines, and we expect deliveries from other manufacturers to arrive, Brnabic said.
The Prime Minister pointed out that Serbia's cooperation with China can be seen in the fact that this is the eighth flight to deliver vaccines, stating that since the beginning of the pandemic, our country has welcomed another 58 planes that brought medical equipment donated by China and Chinese companies.
In addition, three more freight trains delivered everything we bought from China during the pandemic. This shows the partnership, strong ties, seriousness and credibility of our relations, and I thank Chinese President Xi Jinping, the Government of that country and Ambassador to Serbia Chen Bo. Serbia will never forget this, the Prime Minister declared.
The Chinese Ambassador said that she is happy that the last half a million doses of the Sinopharm vaccine arrived and noted that Serbia and China are steel friends and partners in the fight against the coronavirus.
According to her, the Chinese company Sinopharm complied with all contractual obligations and delivered all quantities within the deadline agreed by the two parties.
This fully shows that China and Serbia are steel friends and partners in critical situations. We will continue our cooperation in the field of procurement of vaccines and joint fight against the epidemic, Chen Bo concluded.