Prime Minister Ana Brnabic welcomed today together with Ambassador of the People's Republic of China to Serbia Chen Bo a new consignment of 500,000 doses of the Chinese Sinopharm vaccine at Nikola Tesla Airport in Belgrade.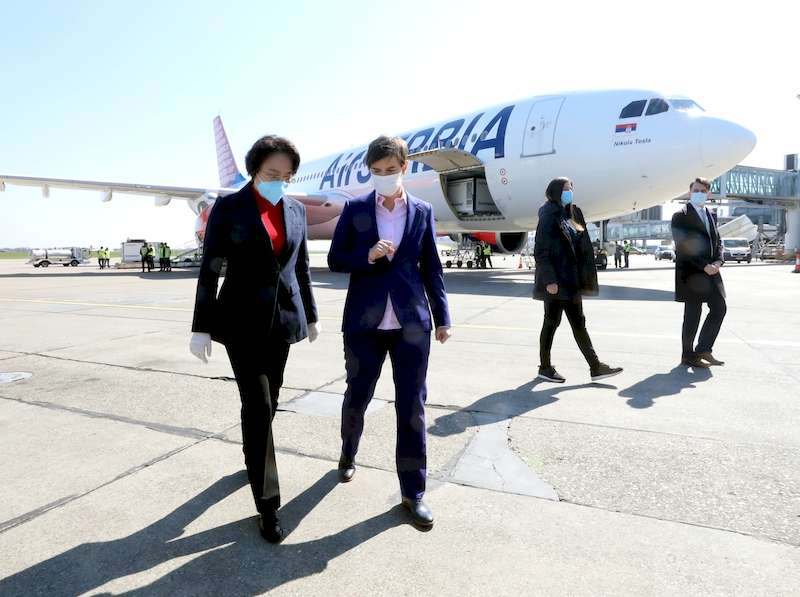 Brnabic pointed out in a statement to the press after the new delivery of half a million Chinese vaccines, that 2.5 million vaccines have been delivered to Serbia from the People's Republic of China alone.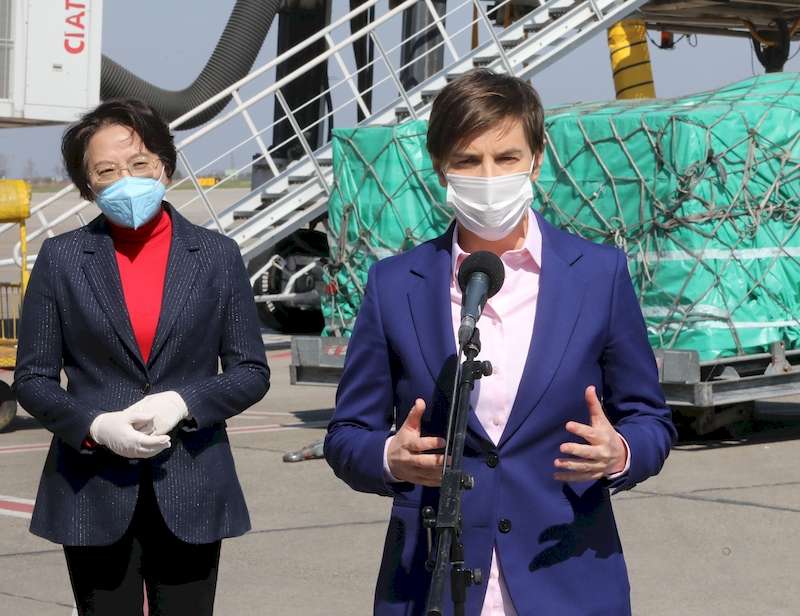 Of all other vaccines we have somewhat less than a million, Brnabic added.
She said that together with tomorrow's delivery of 106,420 doses of the Pfizer-BioNTech vaccine we will have a total of 3.5 million vaccines.
We paid for all the vaccines, as well as for all that we received through the COVAX programme. This delivery speaks enough about the partnership with the People's Republic of China and how much our partners from China and the company Sinopharm helped us that the mass immunisation campaign in Serbia go as planned, the Prime Minister pointed out.
She described as encouraging the fact that we have 26 percent of the total adult population vaccinated with at least one dose, and 20 percent with two doses.
Our goal is to have around 40 percent of the adult population vaccinated with the first dose by the end of April, she underlined.
Brnabic said that she is especially happy with the data, which she saw this morning and which is important for our country and the health system, that over 51 percent of the population in the age group between 65 and 74 are vaccinated.
In the age group of over 75, we have 42 percent of those vaccinated. It is necessary to protect these two age categories, first of all, then the population category with chronic illness, in order to reduce the pressure on the health system, Brnabic explained.
China is the most populous country in the world. Domestic demand for vaccines is huge, but we believe that all countries in the world belong to one fateful community. Chinese companies are ready to provide as many vaccines as possible to other countries, said the Ambassador of the People's Republic of China.
Chinese Ambassador to Serbia Chen Bo pointed out that China, as well as Serbia, is conducting mass vaccination, during which 140 million doses of vaccine were given until yesterday.
The Chinese Ambassador expressed the hope that the new consignment of the Chinese vaccine will additionally help the process of building the "immunity wall" of Serbia.