(Beijing, 17 March 2014) A technical meeting of the trilateral working group of Serbia, Hungary and China regarding cooperation on high-speed railway project between Belgrade and Budapest was held in Beijing in the National Development and Reform Commission of China on 11 March of 2014. At the meeting, representatives of the three parties presented their vision of further work and preparation for the first official meeting at the level of heads of working groups.
In the Serbian delegation, which was headed by the deputy minister of transport Dejan Lasica, were also the special adviser to the minister of finance Maria Bijelić, assistant director general of the Serbian Railways Nena Tomović, director of development of the Serbian Railways Milan Stanisavljević, technical director of the Institute of transportation CIP Milosav Andjelković and lead designer of the Institute of transportation CIP Jelica Šumanac.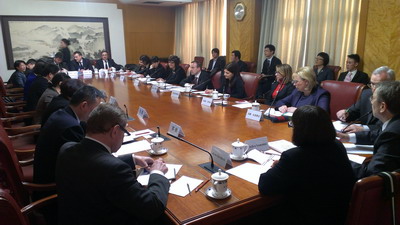 In addition to participating in the meeting in the National Development and Reform Commission, the delegation was received by Vice Minister of Foreign Affairs of China Wang Chao, who is also the Secretary General of the Secretariat for cooperation between China and Central and Eastern European countries.
During the visit to China, the delegation also had talks with representatives of Chinese companies.
From the Embassy of Serbia in Beijing, Charge d' Affaires a. i. Mrs. Tatjana Panajotović Cvetković, minister counselor for economic affairs Zoran Djordjević and third secretary Mirko Kuzmanović were also present at the meetings.