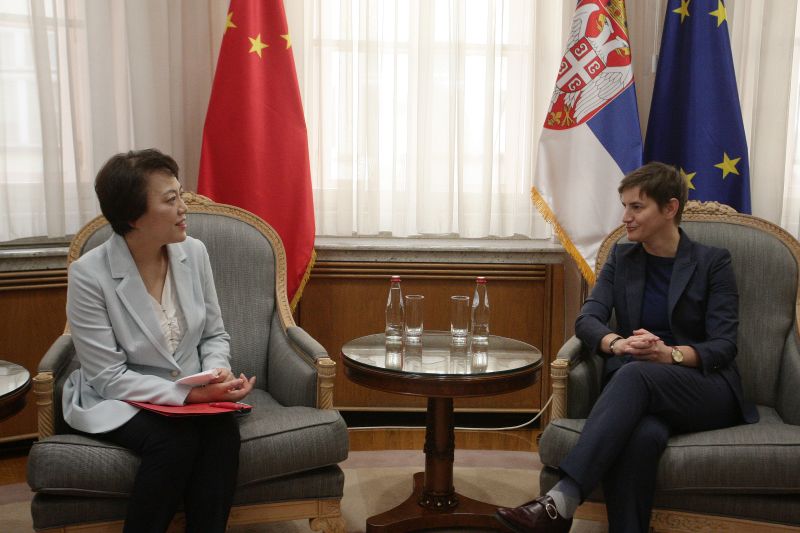 Prime Minister Ana Brnabic spoke today with Ambassador of the People's Republic of China to Serbia Chen Bo about the continuation of the development of outstanding bilateral relations in the political, economic and foreign trade fields.
During the meeting, Brnabic placed special emphasis on the growth of economic cooperation, underlining that the volume of trade in goods in 2021 amounted to €5.3 billion, with the growth of Serbian exports by 157.7%.
According to her, in just five months of this year, the exchange was €2.62 billion, which is almost 40 percent more compared to 2021, and growth was also recorded when it comes to exports (more than 76 percent), as and imports (about 32 percent).
She said that in the past year, China was the second largest foreign trade partner of Serbia, and pointed out that during the last decade, Serbia's exports to China increased 152 times, and that in the past three years alone, since 2019, it has tripled.
Also, as she added, out of the five largest Serbian exporters to the world last year, as many as three companies are owned by Chinese investors, which achieved a total export of €1.9 billion.
The Prime Minister expressed her special satisfaction regarding the renewal of the direct Belgrade-Beijing airline line of a Chinese company, as well as the scheduled regular flights of Air Serbia from the end of October.
Speaking about the current political situation in the world, Brnabic said that Serbia supports the one-China policy and considers Taiwan an integral part of the People's Republic of China, and underlined that this position will not change.
Ambassador Chen Bo thanked Serbia for its consistent position and support for China in this matter.
She added that Serbia, on the other hand, can still count on the continuous support of China on the international level, but also the development and improvement of cooperation in other fields, such as the Green Agenda, energy, biotechnology and the development of new technologies.