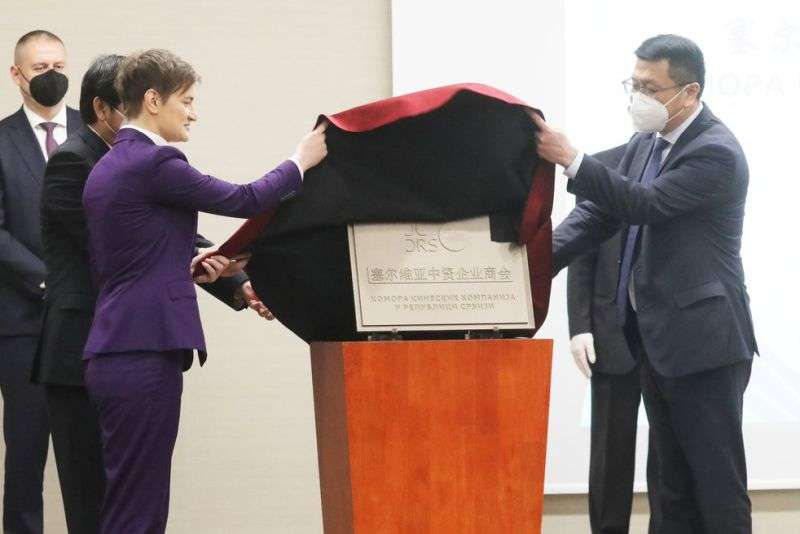 Prime Minister Ana Brnabic said today, at the opening of the Chamber of Chinese Companies in Belgrade, that we want even more Chinese investors to come to our country, stating that the two largest exporters in 2021 were two Chinese companies – HBIS and Zijin.
Brnabic pointed out at the Chinese Cultural Centre that China, with its companies, by opening the chamber in these difficult times, has shown that it believes in Serbia and its political and economic stability.
According to her, this is an extremely important day for the whole of Serbia, because we live in difficult and complicated times, when a large number of partnerships and ties are broken and when we are all under great pressure.
According to her, Serbia is focused on that, as opposed to what is happening in the world, where investors from other countries are hesitant and withdrawing.
The Prime Minister assessed that by opening the Chamber, Chinese companies show their intention to continue investing in Serbia, pointing out that the foreign trade between the two countries is getting stronger every day and that in 2021 it reached a record €5.3 billion.
According to her, China has now taken second place, after Germany as the most important economic partner, while Serbia's exports to China last year amounted to approximately €1 billion, having increased 15 times in the last five years.
Relations between the two countries will continue to strengthen, and Serbia will try to agree on a free trade agreement with China as soon as possible, which was discussed by Presidents Aleksandar Vucic and Xi Jinping, Brnabic repeated.
It is a huge market and has great potential, she pointed out and added that this way we will be able to attract investors from other countries.
When it comes to the announced introduction of direct flights from Belgrade to Beijing and Shanghai, she estimated that it will help strengthen bilateral cooperation.
The President of the Chamber of Chinese Companies expressed gratitude for the support of the government of Serbia, the Chinese Embassy in Belgrade and Chinese companies.
I believe that our chamber will be united and have a key role in strengthening the cooperation between the two countries, he emphasized and added that individuals will also be able to use the Chamber for the exchange of experiences and cooperation.
Charge d'Affaires at the Chinese Embassy in Belgrade Tian Yishu said that the two countries have withstood the test of time in their mutual relations, which have become even stronger, and are a model of good cooperation in international relations.