Prime Minister Ana Brnabic and Chinese Ambassador to Serbia Chen Bo attended today at the Belgrade Nikola Tesla Airport the reception of an airplane carrying a new batch of half a million doses of the coronavirus vaccine of the Chinese producer Sinopharm.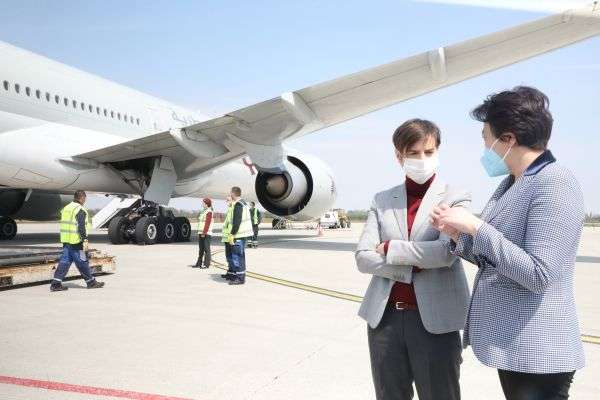 Brnabic stated on this occasion that the newly-arrived Sinopharm vaccines will help Serbia to accelerate the mass vaccination process and inoculate over 37 percent of its population by the end of April.
She stated that with today's consignment, a total of three million doses of the Chinese vaccine have been delivered to our country, which enabled mass immunisation. Brnabic added that a total of over 4.5 million doses of all brands of vaccines have been delivered so far to Serbia.
The Prime Minister pointed out that to date, approximately 1,950,000 citizens have received the first dose of the coronavirus vaccine, which is 34 percent of adult citizens..
Brnabic said that Belgrade is the most successful in the mass immunisation process, stating that 61 percent of adults have been vaccinated with the first dose in the municipality of Stari Grad, 60 percent in the municipality of Savski Venac, and 59 percent in the municipality of Vracar.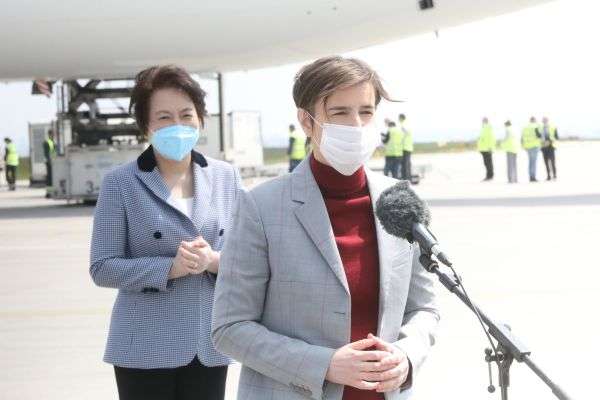 We must speed up vaccination in other parts of Serbia in order to be fully safe at the end of June, she said and appealed to citizens who have not been vaccinated not to believe false news and anti-vaccination campaigns, which, as she stated, are being spread especially on social networks.
We have 1,950,000 citizens vaccinated with the first dose, of whom the largest number received the Sinopharm vaccine, of which was the greatest amount. What we see now as the calming down of the situation, the reduction in the number of those infected, primarily in Belgrade, is first and foremost thanks to the Chinese vaccine, the Prime Minister pointed out.
The Chinese Ambassador expressed her satisfaction with the fact that Chinese vaccines, of which three million doses have been delivered so far, contribute to the mass vaccination in Serbia.